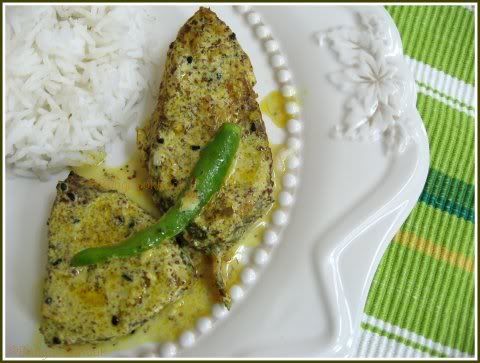 Steamed Hilsa (Bhapa Ilish)
All Bengalis (on both sides of the border) swear by the wonders of the Hilsa. The following is a simple recipie for steamed hilsa customized for easy cooking and healthy eating.
Hilsa (6pcs) in 6tsp mustard seeds ground to a paste, salt to taste, ½ tbs sugar. 1 tsp, turmeric, a little red chilli powder (optional), green chillies- 3 (slit lengthwise to expose the seeds) and 3 tbsp mustard oil.
Put the container with closed lid in the pressure cooker or a microwave. Let the steam rise. Put the weight on top & sim for 5 mins. Put off the gas. Let stand till steam cools. if you are microwaving then cook at medium heat for fifteen minutes.
Take out and serve with hot steamed rice with green chillies fon the side.
Ti

ps:
D

o not add water during the marination or the steaming process. The mixture tends to separate out and the juices of the fish are lost.

You can moderate the amount of oil to be used if you are very health concious. In fact if the mustard seeds are fresh you can cut down the oil required to about a single tbsp.

Best when eaten hot on a rainy Sunday afternoon. Accompanied by great company and Debabrata Biswas's RabindraSangeet or Dylan (according to your preferences) and the a small pre-lunch Vodka with lime.

If you can't find Hilsa, a possible alternative could be "Shad"

[Photo courtesy:Bong Mom's Cookbook]